Motorcycle Mechanic (cheap & mobile)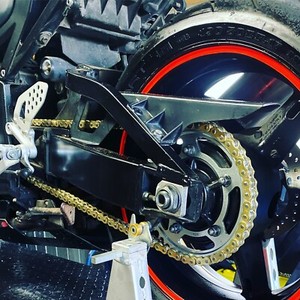 SOLD
Sorry, this ad is no longer available.
Ratings Summary
Quality:
5 / 5
Reliability:
5 / 5
Friendliness:
5 / 5
A great, friendly and super helpful mechanic!
Mitchell has helped me many times and I recommend him for your bike's needs.
Quality:
5 / 5
Reliability:
5 / 5
Friendliness:
5 / 5
Baz
Gummie since 2011
17/12/2020
Repairs and Servicing for Yamaha bike
Great service on my 2011 Yamaha Bike which needed some love after someone had destroyed the handlebar bracket/headstem clamp trying to steal it. Knowing nothing about servicing and repairs I usually feel out of place talking to mechanics but I will be going to Mitchell for the next service. Mitchell was great, upfront, gave me a good idea of the costs and what was happening with the bike, let me know of any other repairs that needed looking into without pressuring to make a decision on the spot.
Quality:
5 / 5
Reliability:
5 / 5
Friendliness:
5 / 5
Mark
Gummie since 2020
13/09/2020
service and brake repalcement
I own a 1990 Honda ST1100 Pan European. I bought the bike in late January. Mitchel puts extra care into his work. My bike was running like a hairy goat and the brakes were shot. Mitchel serviced the bike and replaced the front and back rotors and brake pads changed fluids. After the work was done I took the bike for a ride across the city and back it felt and rode like a different bike. I recommend you all give him a go. The best part is he costs half what it cost through a dealer.
Quality:
4 / 5
Reliability:
4 / 5
Friendliness:
4 / 5
Chris Symonds
Gummie since 2016
30/06/2020
You don't have any recently viewed items
Any items you have viewed recently will be displayed here