LIVE DOSA CATERING SOUTH INDIAN FOOD SERVICES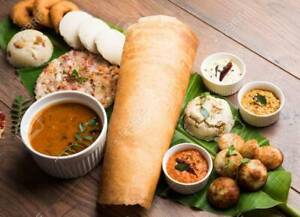 SOLD
Sorry, this ad is no longer available.
Ratings Summary
Quality:
3 / 5
Reliability:
3 / 5
Friendliness:
3 / 5
Excellent and friendly service.
Whenever we have ordered food for party or take way the food was amazing and the service was fantastic. Special thanks to Shweta. We also enjoyed your delicious food whether it is Bombay street food, South Indian stuff or Punjabi. Shweta has also done live dosa party for us and it was amazing. The food quality was excellent and quantity was always more compared to any other place.
Quality:
5 / 5
Reliability:
5 / 5
Friendliness:
5 / 5
Hema
Gummie since 2013
05/11/2021
Pathetic service and underserved
We hired this service for our Kid's birthday party. Unfortunately, the service we received was the worst we ever had. Raj has charged us a setup fee but came without a table. The quantity of food was very less and the Food quality deteriorated during service.Couple of my friends did not get proper food in the end. The basic plan 2 has unlimited masala dosa / Mysore masala dosa and surprisingly ingredients were finished midway. Won't recommend this service.
Quality:
1 / 5
Reliability:
1 / 5
Friendliness:
1 / 5
Anonymous
Gummie since 2021
31/05/2021
Very good services, on time and tasty food
I have no hesitation in giving the 5 stars they deserve, We had them over for a small family function. The food was very good, the spicy mix in the Karnataka style dosa was very nice. Raj was on time, quality and friendliness.
Quality:
4 / 5
Reliability:
4 / 5
Friendliness:
4 / 5
Sangeeth
Gummie since 2012
06/12/2019
RE: Very good services, on time and tasty food
thank u so much sangeeth for ur valuable feed back 
shweta
Gummie since 2010
06/12/2019
You don't have any recently viewed items
Any items you have viewed recently will be displayed here