Dina's Pet and House Sitting Service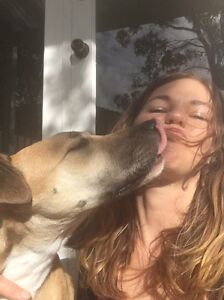 SOLD
Sorry, this ad is no longer available.
Ratings Summary
Quality:
5 / 5
Reliability:
5 / 5
Friendliness:
5 / 5
Dina is amazing!
Dina is good with animals and people. She took good care of my cat while I was away. Dina gained my trust almost instantly with her genuine love of animals and her professional attitude. I had peace of mind knowing that I had left my baby in good hands. She also has excellent communication skills, attention to detail and is super friendly. What a legend! Thankx Dina!.
Quality:
5 / 5
Reliability:
5 / 5
Friendliness:
5 / 5
Naomi
Gummie since 2013
25/07/2016
Excellent friends, professional service.
Dina was consistent, friendly and really great with puppy Maisey! Dina walked and played with Maisey everyday for about 4 months and really helped with the development of a sometimes naughty puppy! I would recommend Dina for anyone needing dog walking/sitting. Dina sends great daily photo's, videos and text message updates. Maisey will definitely miss her!
Quality:
5 / 5
Reliability:
5 / 5
Friendliness:
5 / 5
Andrew
Gummie since 2013
23/07/2016
You don't have any recently viewed items
Any items you have viewed recently will be displayed here