# General Service (From 105- ) : Mobile Mechanic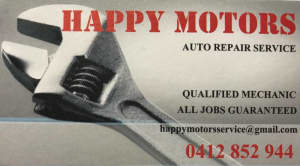 SOLD
Sorry, this ad is no longer available.
Ratings Summary
Quality:
3 / 5
Reliability:
3 / 5
Friendliness:
3 / 5
Friendly, honest and reliable service
Sung turned up right on time, was friendly, also communication was clear and straightforward. His car service price are one of the best I Perth and I highly recommend him.
Quality:
5 / 5
Reliability:
5 / 5
Friendliness:
5 / 5
Alex
Gummie since 2013
17/05/2022
Reliable & affordable service
Very transparent mechanic no hidden fees. Highly recommend if you're looking for an honest mobile mechanic. Five-star service every time.
Quality:
5 / 5
Reliability:
5 / 5
Friendliness:
5 / 5
Steve
Gummie since 2021
23/12/2021
Honest and professional service
Sung came out on time and texted me a day before to confirm the service. Service and repairs were carried out to an excellent standard. I really appreciated that he walked me through everything that needed to be done and why. I felt that I knew exactly what I was paying for and why I needed it done. I will definitely use his services again in the future. I highly recommend his service.
Quality:
5 / 5
Reliability:
5 / 5
Friendliness:
5 / 5
Jim
Gummie since 2013
16/08/2021
You don't have any recently viewed items
Any items you have viewed recently will be displayed here