ACORN FURNITURE REMOVALS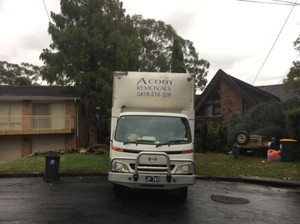 SOLD
Sorry, this ad is no longer available.
Ratings Summary
Quality:
4 / 5
Reliability:
4 / 5
Friendliness:
4 / 5
"No job too small. Newcastle/Central Coast." JOKE?
Asked for an approximate quote to move some items. They didn't bother replying. It would have taken all of 7 seconds to type back: "Sorry we can't because...". But no. Too much effort right? Well here's your deserved reward for portraying yourselves as '"Caring, Reliable, Trustworthy, and (LOL) Professional", and "No job too big or small" all of which I've found to be all wishful thinking at best, or false claims at worst. (Btw there was nothing difficult or out of the ordinary with the move.)
Quality:
1 / 5
Reliability:
1 / 5
Friendliness:
1 / 5
Allan
Gummie since 2012
07/11/2020
Furniture and rubbish removal
Darryl from Acorn came with 2 others. They were great - cheerful and flexible with arrangements. We had a tricky site with lots of stairs and they did not complain at all but got on with the job. They were efficient and well organised in loading the truck to fit the maximum in. They got more done in less time than a previous removalist we used. They did their best to get everything done in a timely manner and offered to help if we needed further assistance. Very helpful and genuine people.
Quality:
5 / 5
Reliability:
5 / 5
Friendliness:
5 / 5
Jane
Gummie since 2011
11/09/2019
Pick up and deliver lounge
Acorn Removals were awesome! I rang a variety of companies on the Central Coast to quote to move a lounge I bought off Gumtree, and these guys got the job because they instilled confidence over the phone. They were professional, polite and punctual, and would definitely use them again.
Quality:
5 / 5
Reliability:
5 / 5
Friendliness:
5 / 5
Kylie O'Derry
Gummie since 2014
14/06/2018
You don't have any recently viewed items
Any items you have viewed recently will be displayed here