Mowing from $50.00! all rubbish removed!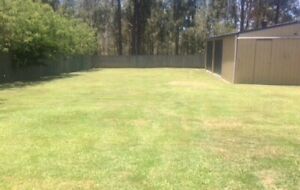 SOLD
Sorry, this ad is no longer available.
Ratings Summary
Quality:
2 / 5
Reliability:
2 / 5
Friendliness:
2 / 5
Don't bother.
Turned up for a look and quoted me on his way to another job. Told him I had a house inspection the next day and that I had already had another on gumtree just not turn up. Said he had a job booked and he would be over after that. Didn't even bother to phone or text. Funny, I call and now it just doesn't even go through. Cheers for that Sheldon.
Quality:
1 / 5
Reliability:
1 / 5
Friendliness:
1 / 5
Anonymous
Gummie since 2019
20/01/2019
An excellent clean job
We've had our lawn done by others previously and I think these guys have done the best by far. A lovely clean and tidy job and easy to deal with.
Quality:
5 / 5
Reliability:
5 / 5
Friendliness:
5 / 5
Krystie Cuthel
Gummie since 2013
17/01/2019
UNPROFESSIONAL. NOT TO DEAL WITH! 1 / 5
He changes the prices then keeps you waiting for hours, not cancelling, waiting. He postponed twice and he promises he's 15 mins away, and then another 15! Not reliable, time wasting, angry and offensive. I would never recommend someone like him, and I hope you won't get in touch with him. He would ruin your day!!!
Quality:
1 / 5
Reliability:
1 / 5
Friendliness:
1 / 5
Rica
Gummie since 2012
14/12/2018
You don't have any recently viewed items
Any items you have viewed recently will be displayed here