Mobile car air con regas, ******** 088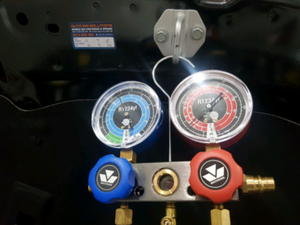 SOLD
Sorry, this ad is no longer available.
Ratings Summary
Quality:
5 / 5
Reliability:
5 / 5
Friendliness:
5 / 5
Friendly and knowledgeable
Tony came out today to check out the air conditioning on my Renault Megane. He was explained everything to me and was nice and friendly. Car now blows nice and cold. Will definitely refer friends and family to him.
Quality:
5 / 5
Reliability:
5 / 5
Friendliness:
5 / 5
Dac
Gummie since 2009
25/01/2019
Re-gas/New Compressor Installation
Tony came to my work, did a diagnosis & discovered my 2006 VW Diesel Jetta actually needed the compressor replaced. Went through the details in regular language so I (know nothing about how air con systems work) could understand. I opted to get my own part & called him back for the install (he even gave good advice on getting the part - buy from a auto-parts place that will give you some warranty on the reconditioned part). TOP JOB. TOP BLOKE. Call Tony! Heaps friendly & job done!
Quality:
5 / 5
Reliability:
5 / 5
Friendliness:
5 / 5
Rob
Gummie since 2018
19/11/2018
Top quality service, great convenience.
I needed an AC regas for my Toyota Corolla. Got in touch with Tony and had a booking straight the next day. Tony is a great honest person, went through in lots of detail how things work and gave me a few tips and tricks here and there to know about my car AC. Provided the utmost of care including leak checks to ensure no future problems. Thanks Tony!
Quality:
5 / 5
Reliability:
5 / 5
Friendliness:
5 / 5
Linton
Gummie since 2015
03/11/2018
You don't have any recently viewed items
Any items you have viewed recently will be displayed here