10×5 trailer hire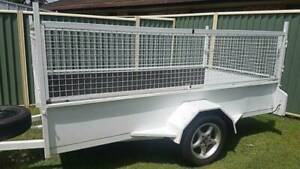 SOLD
Sorry, this ad is no longer available.
Ratings Summary
Quality:
4 / 5
Reliability:
5 / 5
Friendliness:
5 / 5
Great service! Would recommend!
Great service! Great guy, he did a favor for us witch was greatly appreciated! The desk was packed nicely with blankets and well strapped down and supported. Would recommend and will deffinantly use this service again if needed. Thanks heaps!
Quality:
5 / 5
Reliability:
5 / 5
Friendliness:
5 / 5
Rachael
Gummie since 2018
17/02/2019
Very friendly, flexible, easy going service
Great prices, great service. will definitely be hiring this trailer again
Quality:
4 / 5
Reliability:
5 / 5
Friendliness:
5 / 5
matt
Gummie since 2011
27/05/2017
Quality:
4 / 5
Reliability:
4 / 5
Friendliness:
4 / 5
Janine
Gummie since 2017
06/04/2017
You don't have any recently viewed items
Any items you have viewed recently will be displayed here