Exposed aggregate, liquid limestone, kerbing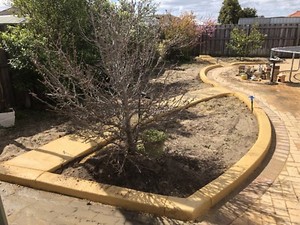 SOLD
Sorry, this ad is no longer available.
Ratings Summary
Quality:
5 / 5
Reliability:
5 / 5
Friendliness:
5 / 5
"Very Clean" and reasonably priced
Wayne did a great job with my Kerbing, He listened to what i was attempting to achieve and delivered. He was very clean with his works and I did not have to clean up any mess when he left as what I have had to do with other trades people. I would highly recommend him and his team, they are friendly and he offered me a very competible price.
Quality:
5 / 5
Reliability:
5 / 5
Friendliness:
5 / 5
Brooke
Gummie since 2012
05/01/2019
You don't have any recently viewed items
Any items you have viewed recently will be displayed here