Need-A-Hand? Professional Assembly and Delivery Service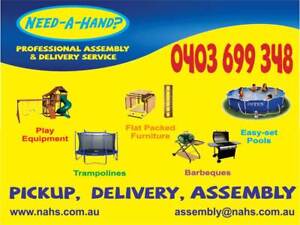 SOLD
Sorry, this ad is no longer available.
Ratings Summary
Quality:
5 / 5
Reliability:
5 / 5
Friendliness:
5 / 5
Look no further. Your search is over.
I'm so glad that I selected this business to dismantle then reassemble a large IKEA wardrobe for me. Although he wasn't the cheapest of my 3 quotes, he was by far and away the most professional, communicative and prompt. This immediately instilled a sense of confidence, which I was prepared to pay a bit more for. I've been badly burnt with fly by night people in the past. Michael has been in the business for over a decade, and he really went the extra mile to get the job done. Recommend highly!
Quality:
5 / 5
Reliability:
5 / 5
Friendliness:
5 / 5
Sue
Gummie since 2012
21/10/2017
You don't have any recently viewed items
Any items you have viewed recently will be displayed here