Cheap 1 tonne mini excavator hire. $195 per day. No bond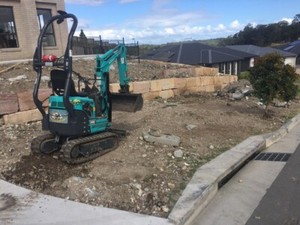 SOLD
Sorry, this ad is no longer available.
Ratings Summary
Quality:
5 / 5
Reliability:
5 / 5
Friendliness:
5 / 5
Absolutely stunning service and excellent machine!
Hire from Mini Excavators, the best choice by far! Awesome little digger. Deserve all the business they get. Primarily hired because of tight access, but what really made the decision for me, the basic attachments were included in price of hire. Very reasonable price for delivery and pickup, worth every penny. Excellent communication before and during job. Provided with a good induction onsite and the excavator performed brilliantly. Future jobs, they will be my first choice every time, Kez.
Quality:
5 / 5
Reliability:
5 / 5
Friendliness:
5 / 5
Kez
Gummie since 2012
06/09/2017
You don't have any recently viewed items
Any items you have viewed recently will be displayed here