Professional Web Design - Small Business Website Services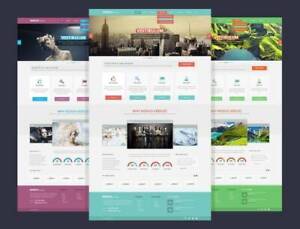 SOLD
Sorry, this ad is no longer available.
Ratings Summary
Quality:
5 / 5
Reliability:
5 / 5
Friendliness:
5 / 5
Very well presented website
Bekhom is very communitive and very good at what he does, I was quoted over $1,000 more than what he initially charged me. Any ongoing changes and updates that I need are quick and cost effective, he also created my business email addresses. I high recommend!!!
Quality:
5 / 5
Reliability:
5 / 5
Friendliness:
5 / 5
Anonymous
Gummie since 2019
08/03/2019
Great service, highly recommended!
My existing homepage was not up to scratch, and Sekhon did an amazing job to redesign and update it. It was a pleasure working with this team, they are highly professional, very responsive, and have delivered a a great result. My website is now on par with my competition, and provides a more effective customer experience. I will continue to use Sekhon's services for all of website requirements.
Quality:
4 / 5
Reliability:
4 / 5
Friendliness:
4 / 5
Chris
Gummie since 2016
16/03/2018
Very helpful
Easy to work with and took his time to get my logo right
Quality:
5 / 5
Reliability:
5 / 5
Friendliness:
5 / 5
frank
Gummie since 2012
04/07/2017
You don't have any recently viewed items
Any items you have viewed recently will be displayed here