WE MOVE FURNITURE –EVERYDAY 24/7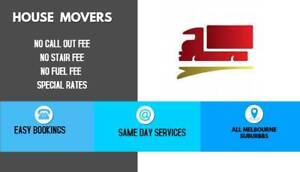 SOLD
Sorry, this ad is no longer available.
Ratings Summary
Quality:
1 / 5
Reliability:
1 / 5
Friendliness:
1 / 5
Didn't turn up, ring, or message.
It's not possible to give a zero rating, but this individual did not provide any service whatsoever. Gumtree needs to get on top of this sort of nonsense. Oddly, I noticed a "cheap removals" truck leaving our area with two guys in it, about 15 minutes before my booking time. (I only booked a truck plus 1 guy). Also: on the '*Absolutely no hidden fees'... it's a MINIMUM OF TWO HOURS. That is not made clear in the ad.
Quality:
1 / 5
Reliability:
1 / 5
Friendliness:
1 / 5
GT
Gummie since 2012
16/08/2019
You don't have any recently viewed items
Any items you have viewed recently will be displayed here