South Perth Plumbing & Gas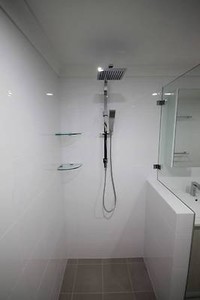 SOLD
Sorry, this ad is no longer available.
Ratings Summary
Quality:
5 / 5
Reliability:
5 / 5
Friendliness:
5 / 5
Professional and Prompt Service
Moe arrived within half an hour of the phone call and was very professional. He was upfront with the cost and provided us with the options to repair or replace very old leaky tap. I'll be calling him again in future when I do some minor renovations.
Quality:
4 / 5
Reliability:
4 / 5
Friendliness:
4 / 5
Roshani
Gummie since 2011
13/09/2017
Professional one and great rates
In my point of view, Moe is one of the friendly and professional in his work area. He is an honest and hardworking person. I strongly advise him for a very good price and high-quality work.
Quality:
5 / 5
Reliability:
5 / 5
Friendliness:
5 / 5
David
Gummie since 2013
15/05/2017
Professional job and great rates
Moe was very professional, prompt and kept me informed at all stages of service. His prices were very competitive and didn't change from the quoted price. It's hard to know who to trust with tradies and I'm glad I went with him rather than the really big companies. I couldn't be onsite at the tenants' house, so Moe kept me informed with phone calls and even a picture via SMS to show me what was happening. Very good customer service. I will definitely be putting South Perth Plumbing in my phone.
Quality:
5 / 5
Reliability:
5 / 5
Friendliness:
5 / 5
Ros
Gummie since 2009
17/03/2017
You don't have any recently viewed items
Any items you have viewed recently will be displayed here