Cleaning service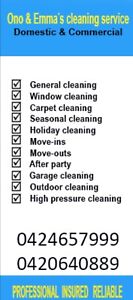 SOLD
Sorry, this ad is no longer available.
Ratings Summary
Quality:
1 / 5
Reliability:
1 / 5
Friendliness:
1 / 5
This person is not professional
I have booked this person a week earlier and last minute she is telling me that she has a problem with a car. I can't accept such a non professional respond and unreliable service. I don't recommend using this service!!!!
Quality:
1 / 5
Reliability:
1 / 5
Friendliness:
1 / 5
Boris
Gummie since 2016
09/03/2019
You don't have any recently viewed items
Any items you have viewed recently will be displayed here