CHEAP MAN & UTE HIRE DELIVERY SERVICE REMOVALIST FROM $35 RUBBISH REMO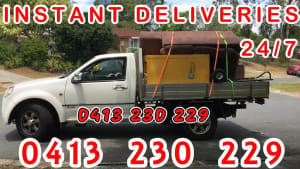 SOLD
Sorry, this ad is no longer available.
Ratings Summary
Quality:
4 / 5
Reliability:
4 / 5
Friendliness:
4 / 5
Professional, honest and reliable
Michael was punctual and professional. When I paid him, I accidentally gave him an extra $100 note. Neither of us realised at the time of payment. He contacted me once he realised and paid me back via bank transfer. I had a lot of cash on me and if he kept it, I never would've knew. Really appreciate the honesty!
Quality:
5 / 5
Reliability:
5 / 5
Friendliness:
5 / 5
Bill
Gummie since 2023
08/06/2023
Very friendly, fast and professional!
Used him to haul a few things to the tip. Had to reschedule original pick up date as removalist didn't turn up for the first day. So arranged for this morning and he was totally fine with the change. Didn't charge any extra. Got it all in one run. Was punctual and reliable. Responded very quick. Would recommend and will use again in future for sure!
Quality:
5 / 5
Reliability:
5 / 5
Friendliness:
5 / 5
Phelicia
Gummie since 2017
10/04/2021
Removal and Tip Run
Used this pleasant man twice now and both times turned up when he said. Nice, easygoing attitude, and doesn't hitch on space in order to get a second run. I would gladly refer him, and I will use him again.
Quality:
5 / 5
Reliability:
5 / 5
Friendliness:
5 / 5
Marcia
Gummie since 2011
31/03/2020
You don't have any recently viewed items
Any items you have viewed recently will be displayed here