$150 Regas and System Check @ Eskimo Auto Air and Electrics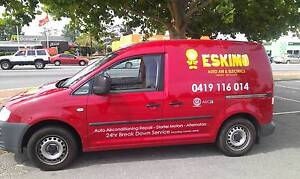 SOLD
Sorry, this ad is no longer available.
Ratings Summary
Quality:
5 / 5
Reliability:
5 / 5
Friendliness:
5 / 5
Air Con re-gas, done promptly, efficently
With what must be a huge summer workload, Darren came around the same day as I called. Obviously knows his business. His manner is friendly and likable and his price is better than many I have seen advertised. And I didn't even have to leave home! Gotta be happy with that.
Quality:
5 / 5
Reliability:
5 / 5
Friendliness:
5 / 5
Gerry
Gummie since 2014
13/12/2017
Excellent prompt service friendly and helpfull
Rang Darren at 8 car was done and ready by 10 great friendly service
Quality:
5 / 5
Reliability:
5 / 5
Friendliness:
5 / 5
Nicole
Gummie since 2013
12/12/2017
All I can say with this heat thank goodness my air
All I can say with this heat thank goodness my aircon is fixed and I can now drive and not pass out from the heat anymore!! This guy Daren, came and honestly checked what was wrong and then quoted me for a new compressor, installation and regas which didn't cost my left kidney, and left eye to pay for it!! Highly recommended!! #eskimoautoairandelectrics
Quality:
5 / 5
Reliability:
5 / 5
Friendliness:
5 / 5
Nazaria
Gummie since 2014
11/12/2017
You don't have any recently viewed items
Any items you have viewed recently will be displayed here