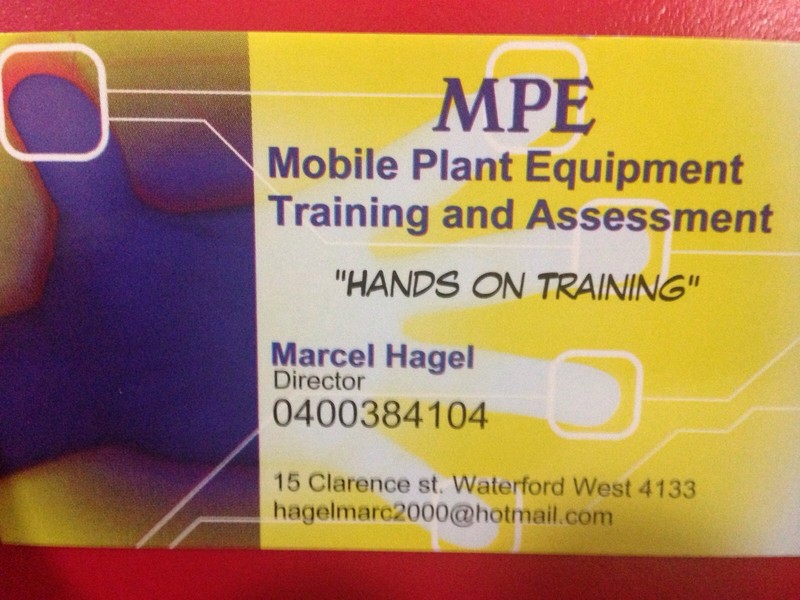 RII tickets Machinery Training and Assessment RPL/VOC
Civil Construction and Mining RII Competencies MPE Training and Assessment has more than 30 years experience in the Civil and Mining sectors having worked with many large small and everything in between operations to provide tailored training and assessment solutions on one on one and smaller groups. We come to you we're we can make the biggest difference in the actual operating environment in order to minimise downtime and lost production. Specialising in Recognition of Proir Learning RPL processes for those persons with the ability to provide sufficient evidence of safe and competent operations as well as Accelerated Assessment for those with the skills but may be lacking in evidence to support experience. Our rates are competitive processing of completed assessments often within 24 hours call Marc ******4104
. RII Excavator ,RII Skidsteer,RII Grader ,RIIDozer,RIIFrontend Loader, RII Watercart, RII Tiptruck, RII Haul Truck can do Civil and Mining RIIs RII articulated Moxy RII Roller RII backhoe RII tracked loader RII Heavy ridged truck. Visit http://www.mpenow.com for more information.
Accreditation:

cert1V training and assessment cert IV Work health & safety
Ratings Summary
Quality:
5 / 5
Reliability:
5 / 5
Friendliness:
5 / 5
Great real world hands on training .
Fast professional real world training, great service I highly recommend MPE .
Quality:
5 / 5
Reliability:
5 / 5
Friendliness:
5 / 5
Adrian
Gummie since 2015
16/03/2018
You don't have any recently viewed items
Any items you have viewed recently will be displayed here