HAYWIRE TECHNOLOGY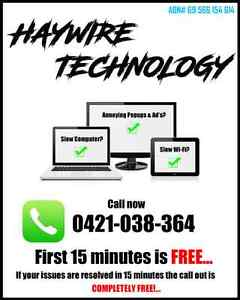 SOLD
Sorry, this ad is no longer available.
Ratings Summary
Quality:
5 / 5
Reliability:
5 / 5
Friendliness:
5 / 5
Good quality service.
I am a satisfied customer, 10 out of 10. Haywire technology have solved all my trouble shooting issues & networking problems. Scott has allot of patience when it came down to explaining to me in simply English terms not IT jargon that you normally get with other consultants that I have dealt with. With his kind manner and efficiency, he has made my workflow run smoothly. With great work and cheap compare to all other IT consultant services. I will definitely recommend Haywire to all my friends
Quality:
5 / 5
Reliability:
5 / 5
Friendliness:
5 / 5
Jenievive
Gummie since 2017
26/01/2017
Home network issues
I was more then pleased with the service Haywire have provided, I have contacted a number of consultants for a solution, i have been left disappointed every time. Scott was able to diagnose our network troubles, design a solution and implement it with professionalism and efficiency, all of our network issues have now been solved. I will be recommending Haywire Technology to all my friends and family.
Quality:
5 / 5
Reliability:
5 / 5
Friendliness:
5 / 5
Anonymous
Gummie since 2017
17/01/2017
You don't have any recently viewed items
Any items you have viewed recently will be displayed here