Pumi Thai Massage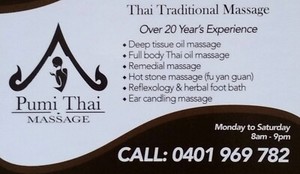 SOLD
Sorry, this ad is no longer available.
Ratings Summary
Quality:
5 / 5
Reliability:
5 / 5
Friendliness:
5 / 5
Great service,can fit you in at short notice
always friendly and professorial and has very strong hands when needed.
Quality:
4 / 5
Reliability:
4 / 5
Friendliness:
4 / 5
Glen
Gummie since 2012
29/04/2019
Good value, but too soft
If you are after a deep tissue massage as I was, you might go away a bit disappointed. Being an athlete I need strong massages, but the pressure felt about 40% of what I normally get when I ask for deep tissue. Sadly it was ineffective for me & my muscles feel just as tight after the massage. However, if you are after a mid to lighter massage, Pumi would would suit your needs.
Quality:
2 / 5
Reliability:
3 / 5
Friendliness:
5 / 5
Andrew
Gummie since 2012
14/08/2017
Exceptional value and exceptional massage
I have had regular massages for more than 30 years . Nearly 3 years ago I relocated to brisbane and found a lovely lady called pumi who is by far the best masseuse I have ever had. Whether I am looking for traditional thai massage or relaxation massage pumi is the best and you will not be disappointed . ( john)
Quality:
5 / 5
Reliability:
5 / 5
Friendliness:
5 / 5
john Dick
Gummie since 2017
06/07/2017
You don't have any recently viewed items
Any items you have viewed recently will be displayed here