MAN WITH UTE AND TRAILER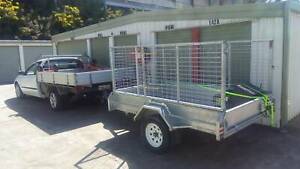 SOLD
Sorry, this ad is no longer available.
Ratings Summary
Quality:
3 / 5
Reliability:
3 / 5
Friendliness:
3 / 5
extremely helpful
I had purchased second hand shelves. A lot of shelves. Jason went out of his was to be helpful and said nothing about the ridiculous moving job I asked him to do.
Quality:
5 / 5
Reliability:
5 / 5
Friendliness:
5 / 5
Nicole
Gummie since 2013
07/03/2019
RE: extremely helpful
Thanks Nicole much appreciated :) 
Jason
Gummie since 2018
07/03/2019
Doesn't return calls or messages
Tried a couple of times to arrange pick up and delivery and jason didn't reply
Quality:
1 / 5
Reliability:
1 / 5
Friendliness:
1 / 5
Gumtree Ad
Gummie since 2014
16/02/2019
Pick up & delivery of lounge suite
Jason was very prompt in responding to my message and did the job the same morning! He was respectful and very careful with the furniture, and extremely obliging in rearranging lounge room to accommodate new suite, and putting it in place. Very reasonable rates too! I highly recommend him.
Quality:
4 / 5
Reliability:
4 / 5
Friendliness:
4 / 5
Lindy
Gummie since 2018
12/11/2018
You don't have any recently viewed items
Any items you have viewed recently will be displayed here